How To Know If You're Ready For A Bigger Home in Macomb County
When you and your family have outgrown your home, it's time to go bigger and better.
No matter how you slice it, owning the home you've always wanted is the ultimate realization of the American dream and bigger is traditionally better.
When you bought your first place, it was perfect for you. But then you got married, had kids, adopted a dog and two cats. Your starter home is starting to feel a bit cramped.
HOW YOU KNOW IT'S TIME TO TRADE UP
A very good friend of mine and his wife owned and lived in a 1,100-square-foot house in Richmond, MI., for years. This was a good starter home but as his family grew the house did not.
They had one and a half baths, three bedrooms, a living room and a kitchen, and anytime they added anything they were struggling to find a spot to put it.
But what really did them in was the addition of twin boys to their household, which meant they ran out of space and they were stumbling over one another.
In search for more space, the couple found a 2,400-square-foot house in Macomb Twp., MI, planted on a quarter acre, part of which will become a play house for their kids.
A good part of his life have calmed down, with having more space, his house features two and a half baths, living room, dining room, kitchen, large walk-up attic, four bedrooms and a den that became his home office.  
With the twins, and the two boys he already had, the home office allowed him to work from home a few days a week. This gave his wife a break from the twins and the days he went in to work, his wife was in a better mood when he came home.
Whether you have hyper dogs, expect children, have come into some money or got a job promotion, you know it's time to trade up when your current quality of life is suffering. For you, a larger, nicer house or better neighborhood will not only mean more room to live, but a happier you.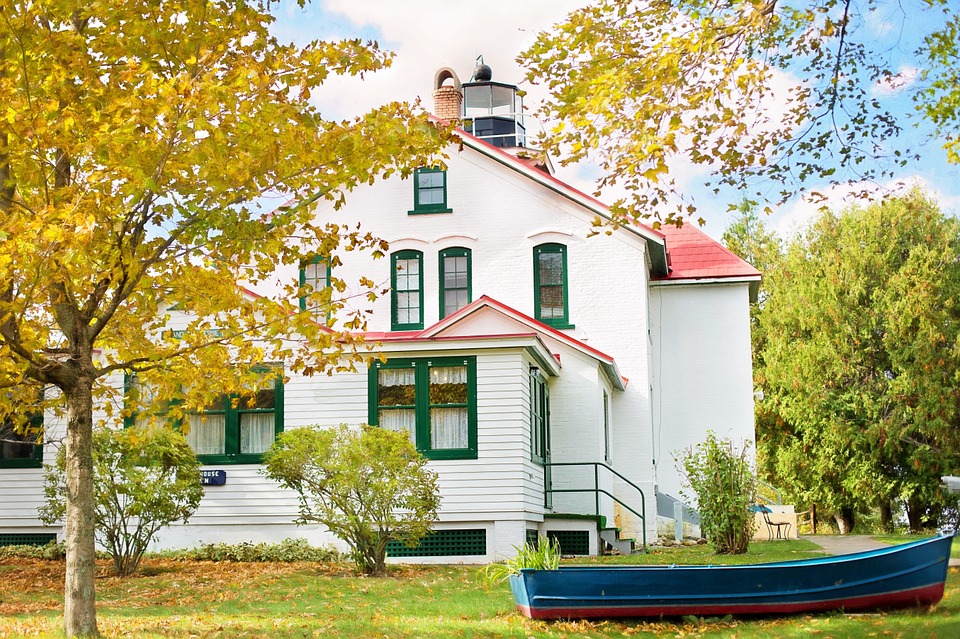 WHAT TO CONSIDER BEFORE TRADING UP
Can I afford it?
A bigger house or better neighborhood usually means more money. (Though in this market, your money can buy you a lot more house than it used to.)
You may be comfortable with your current mortgage payment, but can you handle a larger one? Also, a bigger home means more rooms and outside areas to clean and maintain. A bigger house also means bigger Insurance costs.
How will that affect your budget? Will you have to give up certain expenses or cut back on certain "luxuries" like vacations or going out to eat?
Are my finances in good shape?
Depending on when you last bought a home, getting a mortgage may be harder than you remember. Lenders will closely review your income, debts, assets and liabilities, to make sure you don't exceed the maximum debt-to-income ratio.
Can I sell my house?
If you own your current home outright (meaning you don't have a mortgage or any liens) or you have enough cash to cover the purchase of a new home without depending on the profit from selling your current home, then good for you.
But if you're like most people, you need to sell before you buy. At the time this was written home prices in Macomb County have gone up.
Hopefully you'll make a profit from the sale and can use it to cover the upfront expenses on your new home, including the closing costs, down payment and moving expenses.
THE COST TO YOU
Future and present home buyers dream of a white picket fence or a tire swing in the backyard, but nobody really swoons over the idea of a bigger utility bill. But there's no avoiding it.
A larger house means a larger utility bill. If you have a longer driveway or a bigger yard than before, you may need to purchase a snow blower or lawn mower, or pay more to have it maintained.
You may also feel like you have to buy additional furniture, now that there are voids of emptiness in rooms. And don't forget about taxes and insurance.
Depending on where you are living and the size of your house, you could easily double your property tax and insurance obligations with your new home. Still, if you're going to buy a bigger house, now is a wonderful time, says Mike Mitchell, a broker associate with Real Living/Kee Realty.
"The reality is that for most markets, houses are on sale right now. If you're in the position to move up, you don't have much competition, and this is the opportunity to make a move that might not be affordable for you at another time."
The only caveat, says Mitchell, is that while you'll be able to buy a larger house for a great deal, you probably won't be able to sell your smaller house for as much as you might have once imagined.
THE NEIGHBORHOODS AND AREAS FOR YOU
Depending on your situation, trading up can mean moving from a small condo to a 2,000-square-foot, single-family home or leaving the 3,000-square-foot, single-family home in the suburbs for a luxury penthouse loft in the downtown area.
Perhaps it means buying a luxury home in the better neighborhoods in Macomb County or custom building a home. Or it could mean owning waterfront property.
No matter what your budget, be careful that you don't overpay for a place just because you can afford it. Compare and determine the home's market value. Research the neighborhood and school districts.
Now where do you start?
Start with a good lender, and if you are looking in Michigan, I like First State Bank a good community bank. Ask for Angela Freeman, she is the Community Relations Director, tell her Bryant sent you.
If you are not looking in the Metro Detroit market then look for a lender that will be able to pre-qualify you and can lock i  your rate. This will make the purchase of your new home faster and easier and with the way the home market is you would hate to lose your dream home because your lender dropped the ball.
Second find a good realtor, like Mike Mitchell, who knows the market and is willing to take the time to know your needs. If your realtor only wants your listing and won't take the time to find out what your needs are then move on and don't sign with them.
OK, so you have a good lender and realtor who can help you find your dream home, but is your insurance company right for your new home?
Just like realtors and lenders, insurance companies and brokers are not created equal. As an Independent Agency, Michigan Insurance Source can shop you around for a better rate. One thing we see every day is that some insurance companies like some neighborhoods better than others so they give better rates.
It does not take much time to run your quote and we can work with your lender and realtor to get your free quote fast.
We hope this information helps you find your new home.
Good Luck!

Quick Quote
We would love to hear from you! Please fill out this form and we will get in touch with you shortly.